Marine Sport Lighting
Custom Marine Sport Lighting in Raleigh & Smithfield, NC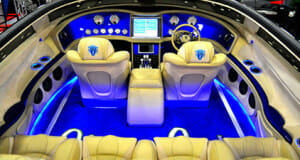 Sound Station and Security also has a wide selection of boat lighting available. If you want to accent your boat and add some style and personality to it, we have plenty of options. LED light bars for your boat are a popular option for when out on the water at night. Underwater lighting can be a great look as it makes the water around your boat glow as you move.
There are also options for lighting your pier so you can come in and out safely after dark. Our spot lights can also help when mounted on top of your boat. Look at our list of products below and talk to us about what catches your interest. Our team of lighting technicians has experience with custom installation for a variety of lighting jobs and can help you decide what would be perfect for your boat.

Sign Up for Email Specials
Killer deals and promotions you won't want to miss. Some new sales and events will only be available to subscribers.